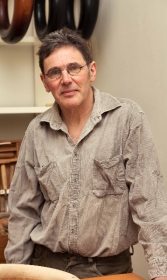 Born in Lille – France – in 1956, school was marked by math and drawing. I began carpentry.
In 1982, I set up my own workshop and devote myself to the developement of fine techniques in solid wood working. Beside, I keep my interest up for furniture drawing and cabinet making.
I settle in Brussels – Belgium – in 1987 where I first worked for a antiquarian at the Sablon, and then took the technical supervision in a workshop.
In 2006, I get a workshop in Schaerbeek, Brussels, and create my activity oriented towards the fine working out of solid wood on one hand, and towards research and development around serpent making on the other hand.
This instrument making project comes from the discovery of some musicians and instruments. For two years, studying construction hypothesis brought me to find a cutting and shaping process. So I decided to make a prototype, scanned Michel Godard's instrument and proceeded to the first tries.
From these prototypes, exchanging impressions with several musicians and wind instruments manufacturers helped me to refine the result and to propose today a church serpent and a key serpent, stamped with my seal.